XPEL Paint Protection Film
XPEL paint protection film works as an invisible layer of armor over your car's finish. Our crystal-clear, energy-absorbent polyurethane film is computer cut from a database of precision templates specific to your car, and then safely bonded to the vulnerable painted surfaces offering up to ten years of guaranteed protection. XPEL is 100% safely removable on factory paint, and provides all of the protection you need with none of the peeling, cracking, yellowing, and blistering that can happen with other less-advanced films on the market. XPEL performs as a tough barrier to prevent small rock chips, debris, and insects from coming in contact with your vehicle's paint or metal finished surface areas. Craig Dunn Motor City can also apply XPEL as a paint protection for RV's, Boats, Motorcycles, ATV's, Trailers, and much more!
---
Undercoat Protection
Canadian roads and weather conditions are tough on your vehicle's under-carriage. Disturbing road noise and vibrations can make a long road trip even longer and more tiring.
Shield Undercoat Protection
Craig Dunn Motor City's Undercoat Protection is specially formulated for exposed high impact areas. This pliable product will not crack, peel, or chip. It seals out moisture and protects your under-carriage components from road debris. It also provides insulation from extreme temperatures and reduces disturbing road noise, offering you a quieter more enjoyable ride.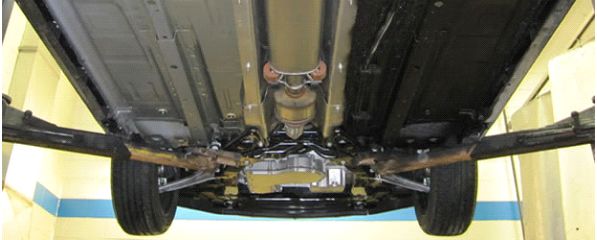 ---
Paint Protection
The suns powerful ultraviolet rays will cause your paint to fade. The clear coat finish on your vehicle's painted surface is uneven. These peaks and valleys trap dirt, salt, pollutants and moisture which dull the finish, ruin the look of your vehicle and affect it's resale value.
Shield Paint Protection
Craig Dunn Motor City's Paint Protection bonds to the surface, completely sealing the paint. It will create a smooth, durable finish that protects your vehicle against the harsh Canadian environment. This long lasting sealant protects and enhances your vehicles clear coat with no requirement for waxing or re-application.
---
Interior Protection
Shield Fabric Protection
Craig Dunn Motor City's protection is an invisible barrier that ensures easy clean-up of spills to avoid permanent staining. Penetrating each individual fibre to repel moisture and dirt, while the treated fabric remains open and breaths. This high quality environment product will not alter the colour or texture of your fabric or leave a residual odour.
Shield Leather Protection
Craig Dunn Motor City's Leather Protection prevents damage to your vehicle's interior. Penetrating conditioners create a barrier that locks in the essential oils and pigments and provides ultraviolet sunscreen while still allowing the leather to breathe. The flat satin finish of a protected dashboard eliminates glare and reduces dust.