With 2016 model year General Motors vehicles beginning to appear on dealerships across Canada even before the 2015 models have been sold, it can be a challenge to wade through features and details to decide which model is best for you. While the clearance prices and financing options on 2015 models can be pretty alluring, it can be hard sometimes to make the choice between a deal and the latest in technology options. So if you've been wondering what's new between the 2016 Chevy Colorado vs 2015 Chevy Colorado keep reading to see a few of the options new for this coming model year.
Chevy Colorado Duramax Diesel
We've posted before about the Duramax diesel option that will be available on the 2016 Chevy Colorado, but it's worth repeating, because diesel engines offer a host of advantages in longevity and efficiency that we think appeal to anyone wanting a reliable work truck or an efficient commuting vehicle. The 2.8-liter Duramax turbo diesel engine coming to the 2016 Chevy Colorado should be pretty awesome.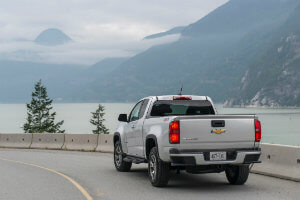 Available Specialty Editions
The 2016 Chevy Colorado will also be available in an all-black Midnight Edition and a Z71 Trail Boss Edition optimized for off-roading.
Integrated Trailer Brake Controller
Sometimes your trailer wheels will lock up if the weight of the trailer isn't matched to the braking force applied. With the brake control options newly available on the 2016 Chevy Colorado the braking force applied to your trailer can be optimized to match the weight it is carrying, hopefully giving you even better, and safer, braking abilities.
Enhanced Infotainment Options
Another new feature coming to the 2016 Chevy Colorado is an improved driver information centre in the gauge cluster of the LT and Z71 trims. Featuring an enhanced multicoloured display, this feature should offer even better technology integration options.
Schedule your test drive for the new 2016 Chevy Colorado today!