As Labour Day, a return to school, and the end of summer get closer, more and more teens are getting their learner stage licences. Fortunately for parents who may be worrying about their students on the road by themselves for the first time, the Teen Driver feature on Chevy vehicles can help parents instill good driving habits in their students. Keep reading to learn more about what Chevy vehicles have Teen Driver and what this feature offers.
Read More: Chevrolet and the Power of Play
What Chevy Vehicles Have Teen Driver?
The Teen Driver feature has previously been available on several Chevy vehicles, like the 2016 Chevy Malibu. However, for 2017 this safe-driving advantage will be available on ten models in North America: the 2017 Chevy Camaro, Chevy Silverado and Silverado HD, Chevy Suburban, Chevy Tahoe, Chevy Colorado, Chevy Cruze, Chevy Volt, Chevy Malibu, and Chevy Bolt EV. We're not sure yet if all these models will be available with this feature in Canada, but we are hoping that they will!
Teen Driver Feature on Chevy Vehicles
But what is involved in the Teen Driver feature? Parents interested in using this features with their learning driver must first register their teen's keyfob with their Chevy's system settings. After that, whenever that keyfob is in use certain safety practices will be in place. Some of these include:
Muting the vehicle sound system if seatbelts are not being used
Visual and audible warnings when the car goes over pre-set speeds
Limits on maximum sound system volume
Limits on maximum speed
Automatic activation of advanced safety features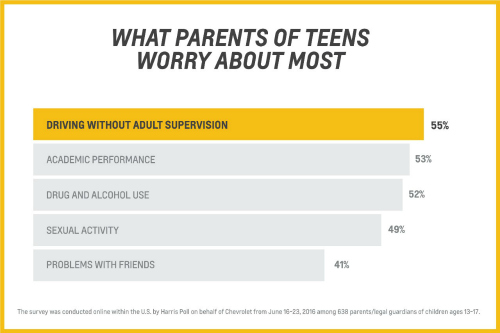 Teen Driver Report Card
The available in-vehicle Teen Driver Report Card can also set parents minds at ease (or give them practical information to help their student learn better driving habits). This report card gives a summary of student driving. The exact items available on the Report Card will vary by vehicle, but some options include maximum speed reached, the total distance driven, and if any features like stability control, anti-lock brakes, traction control or Forward Collision Alerts and Braking were needed.
Unlike features like 4G LTE Wi-Fi on Chevy vehicles or OnStar services, Teen Driver does not need to be renewed or purchased on a monthly level. Contact a member of our Craig Dunn Motor City sales team today to learn what vehicles available here in Portage La Prairie offer this feature.