2016 Chevy Silverado HD New Features
What we love about the Chevy Silverado HD is its compromising ability to do what you need it to do. For example for the 2016 model year the Chevy Silverado 2500HD is rated to tow up to 6,577 kg in conventional towing and 8,165 kg with a fifth-wheel configuration. Keep reading to check out more great new features of the 2016 Chevy Silverado HD that will make any towing or trailering job easier.
Read more about the 2015 Chevy Silverado HD here!
Digital Steering Assist on the Chevy Silverado HD
One of the neatest new advances to make your towing life easier is Digital Steering Assist that will be available on some double cab and crew cab models. This enhanced power steering setup will help with highway stability and road holding whether or not the truck is loaded. New Digital Steering Assist on the 2016 Chevy Silverado HD will also improve steering and responsiveness.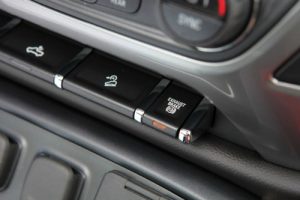 Gooseneck/Fifth-Wheel Trailering Prep Package
Have you ever been frustrated that your HD truck isn't ready for fifth-wheel towing right out of the box? For 2016 there will be an available Gooseneck/Fifth-Wheel Trailering Prep Package which will have your truck ready to tow large loads right away. It features a bed-mounted trailer harness, spray-in bedliner, and either a frame-mounted hitch platform and tray that accommodates a gooseneck hitch or fifth wheel mounting brackets. This package should be available in the first few months of 2016 for gas and diesel HD trucks. Other trailering 
accessories will be available at Craig Dunn
.
.
Advanced Chevy MyLink
The enhanced Chevy MyLink infotainment system available in the 2016 Chevy Silverado HD will offer even more capability than in years past. The seven-inch MyLink will feature faster processing, HD radio, and both 
 Apple CarPlay and Android Auto
 compatibility. The eight-inch model will come with CarPlay, with Android Auto becoming available later in the model year.
In addition to these technological advances, and other new available features (like wireless phone charging, a remote-locking tailgate, and new exterior colors), the 2016 Chevy Silverado HD will continue to be the same reliable truck that Chevy customers have come to expect over the years. With powerful engines like the Duramax diesel designed for a minimum of 322,000 km of heavy duty service before needing a major overhaul, and GM warranties available with every purchase, folks who get a Silverado HD truck from us at Craig Dunn Motor City can know that they are getting the very best long-lasting truck around.