2018 GMC Acadia vs 2018 Honda CR-V
SUV shoppers looking for their next family hauler have a lot of options to sift through in the crowded SUV segment. To help, we have compared two segment leaders, the 2018 GMC Acadia and 2018 Honda CR-V, to see what each has to offer for active families on the move. Keep reading to learn more.
[Read More: 2018 GMC Acadia Convenience Features]
Engine Power
The 2018 GMC Acadia offers a little more engine power than the 2018 Honda CR-V with a 2.5-liter four-cylinder base engine compared to the 2018 CR-V's 2.4-liter base engine.  Not only does this mean that the 2018 Acadia will have an easier time passing on the highway when loaded with passengers, but it also enables the Acadia to have a much heftier towing capacity (up to 4,000-pounds when properly equipped) than the 2018 CR-V making it a little more versatile for family adventures.
Passenger and Cargo Space Offerings
The choice between the 2018 GMC Acadia and the 2018 Honda CR-V is likely to come down to space offerings and budget. While the 2018 Honda CR-V does come in with a slightly smaller starting MSRP ($24,250 compared to the 2018 Acadia's starting MSRP of $29,000) it also offers two fewer seats and a smaller cargo space area that doesn't accommodate growing families quite as well.
The 2018 GMC Acadia offers seating for seven passengers and a generous cargo space of 79.0 cubic feet when the rear seats are folded flat. The 2018 Honda CR-V has space for only five passengers and a max cargo space of 75.8 cubic feet. The two extra seats in the 2018 Acadia are valuable and help to ensure that your family won't grow out of their new space and come in handy for extra family and friends if daily seating for seven isn't needed.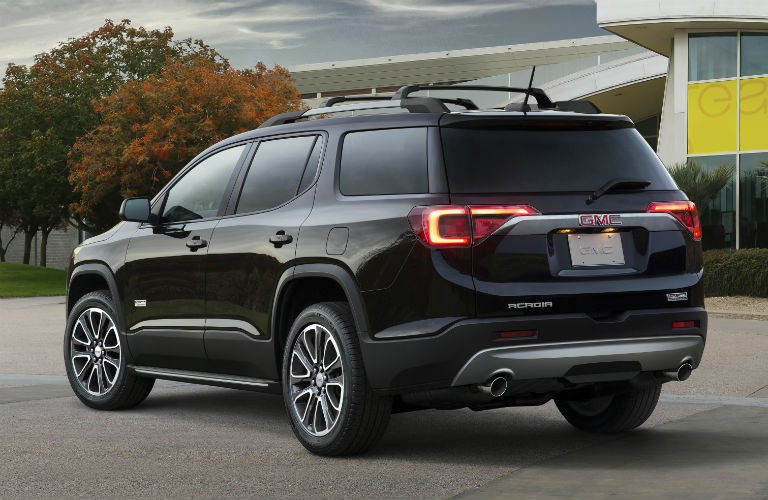 [Read More: 2018 GMC Acadia Safety Features]
Find the 2018 GMC Acadia available for test drive and purchase now at the Craig Dunn Motor City dealership. Browse our current 2018 GMC Acadia offerings online using our easy-to-search inventory pages or connect with one of our team members by calling 1-888-611-6021.