It's coming around sooner than you think: Mother's Day. That day of the year where we honor the women who brought us into the world. Will you get Mom a nice card and some flowers this year, or do you want to go all out with something supremely refined? Our Mother's Day 2016 activities near Winnipeg MB can help you give Mom what she really wants: a chance to spend time with an important person in her life (you) and enjoy an experience.
Thinking about getting a new car? Learn more about leasing and buying near Winnipeg MB here
Rock Around the Clock – Celebrations Dinner Theatre – All Weekend
Does Mom like the theatre or being taken out on the town? Then you can bring her out for a nice dinner and a show at Celebrations Dinner Theatre. Rock Around the Clock, a night of high energy 1950s rock, offers lots of smiles and the kind of music you can't help but fall in love with, by Elvis, Buddy Holly, Jerry Lee Lewis, and many more artists. Cost is $72.95 on Friday and Saturday, $62.95 on Sunday. Learn more, review the delicious menu, and get ticket information here.
Peter Pan – Royal Winnipeg Ballet – All Weekend
Ballet may not be everyone's cup of tea, but for Mom it might be a dream come true, and this production of Peter Pan is good for the entire family. Filled with adventure, thrills, and beautiful performances, this could be the show of a lifetime. The ballet will run at 7:30 p.m. on Friday and Saturday and 2 p.m. Sunday afternoon. Cost ranges from $29 to $110 depending on location. Learn more here.
Wine & Words – Manitoba Museum – Friday May 6, 2016
Does Mom have a love for poetry, and local Canadian literature and art? This year's Wine & Words event by Theatre by the River will feature Canadian artists presenting music, poetry, and stories to the theme "Space, Exploration and the Infinite Universe". This event will take place at the Manitoba Museum Planetarium Dome. Doors and bar will open at 7pm. Cost is $30. Get your tickets and learn more here.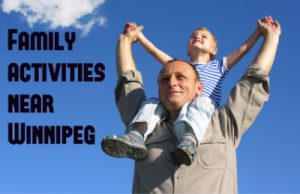 Opportunities at Gardens Manitoba – Sunday May 8, 2016
If Mom has a green thumb, or has always wanted to get more into gardening, or just loves getting flowers, this is the perfect stop for her and you. The Gardens Manitoba are offering two morning gardening workshops at the Canadian Mennonite University: one on "Owning a Hobby Greenhouse" and the other on "Promoting Birds, Butterflies, and Bees in the Garden". The Gardens Manitoba will also be selling a variety of plants at their Mother's Day Sale. Learn more and reserve your spot here.