We've already posted about the RemoteLink App, which allows driver to control their new Chevy, Buick or GMC vehicle through the OnStar internet services, but now we have even more exciting news for all Chevy drivers! Next week at the Consumer Electronics Show (CES), Chevrolet will debut an enhanced App which will combine the services offered through RemoteLink and the myChevrolet app.
Read More: How Do I Set Up the RemoteLink App?
RemoteLink and myChevrolet combined features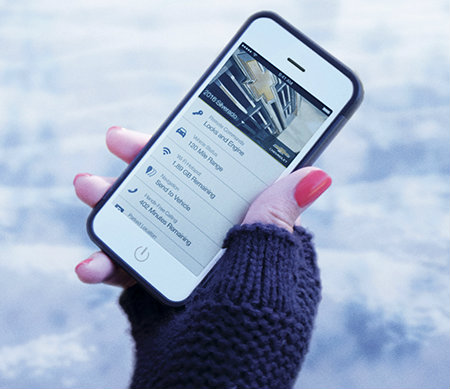 The myChevrolet app previously offered digital access to roadside assistance, the Chevy owner's manual, and vehicle information at the touch of button, as well as other features like the ability to easily schedule maintenance. OnStar services included remote locking and unlocking of the vehicle, monitoring the data use of the vehicle's 4G LTE Wi-Fi hotspot, remote start, and also the ability to get diagnostic updates.With the new enhanced app, all of these features will be available through a single smartphone app.
In addition to the convenience of having all your vehicle apps in a single location, the combined myChevrolet app will allow drivers to have a single user profile and a unified log-in for both sets of features. Customers will be able to customize the homescreen of this app by adding and removing the features that they use the most for easy control of their vehicle.
Read More: Using Siri Eyes-Free on Chevy Vehicles
The myChevrolet app is currently available on the Apple App store for iPhone, or on the Google Play for Android. The enhanced version will be available in 2016 for select new Chevy vehicles, starting with model year 2010. The OnStar features available will still require Chevy owners to be an OnStar customer, but for those drivers who have both, this new system promises to offers a user-friendly combination.