Yesterday at the Montreal International Auto Show, the 2016 Buick Envision and the futuristic Avenir concept car made their Canadian debuts. This elegant SUV is pushing the envelop on Buick excellence and are really exciting to see! Keep reading for new information on the 2016 Buick Envision Technology features that are promising to revolutionize comfort, safety, and driving economy.
Read More: 2016 Buick Envision Release Date
2016 Buick Envision Technology Features
We've written before about the excellent anticipated features of the new Buick Envision, but with its Canadian debut new information has arrived that is making us even more excited about this upcoming vehicle.
Buick Envision Safety Sensing
The list of available technology in the 2016 Buick Envision reads like a Who's Who of the latest in radar and camera based technology: lane keeping warnings and assistance, blind zone alerts with lane change alerts, automatic parting assistance and rear parking assist, a rearview and surround-view camera, and adaptive cruise control with automatic braking. Each of these will work to keep drivers efficiently out of accidents.
Envision Stop-Start Technology
Stop-start technology allows the 2016 Buick Envision's engine to briefly stop during driving breaks (such as at red lights) and then smoothly start again afterward. This system preserves gas, and allows the engine to minimize unnecessary wear. Stop-start is only one of the many engine technologies that will be in this new SUV to minimize fuel consumption and optimize environmentally friendly driving.
Read More: General Motor's Green Industry Standards and Practices
User-Friendly Envision Gauge Cluster
It's nice to have phone connectivity and Wi-Fi available in your Buick no matter where you go, but it's not always the safest to glance over to a center-stack screen while on the road. With the new 2016 Buick Envision in-dash gauge cluster, drivers will be able to get updates on things like incoming calls without shifting their gaze to far off of the road.
Buick Sound Dampening
The 2016 Buick Envision will be outfitted with a variety of noise absorbing technology to deliver the smoothest, quietest and most enjoyable driving experience. Special acoustic laminated glass in the front windshield and side windows will work to cut wind noise, while sound absorbers in the engine compartment, doors, and cabin will minimize interior noise and vibrations.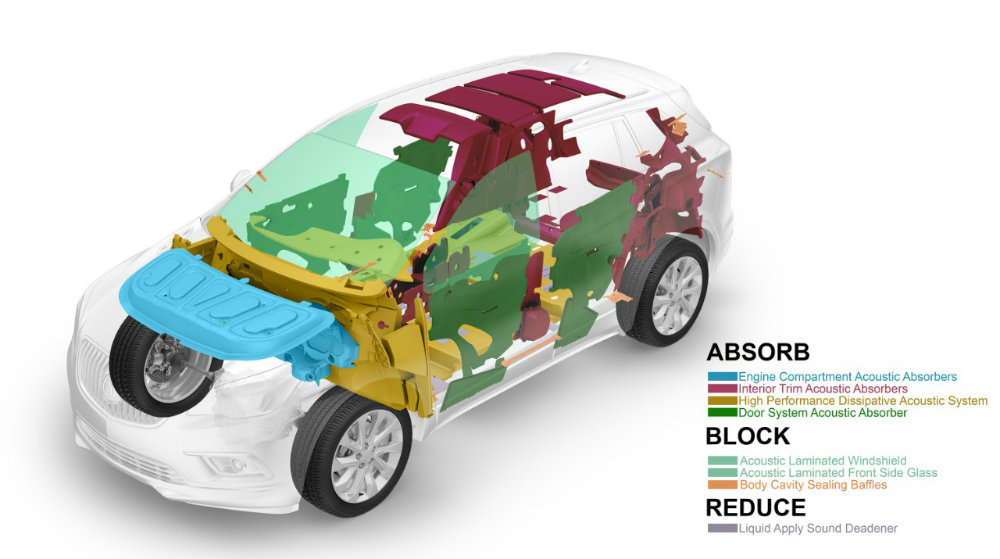 Contact a Craig Dunn Motor City sales representative for more information on the 2016 Buick Envision and it's estimated arrival date in Portage La Prairie.